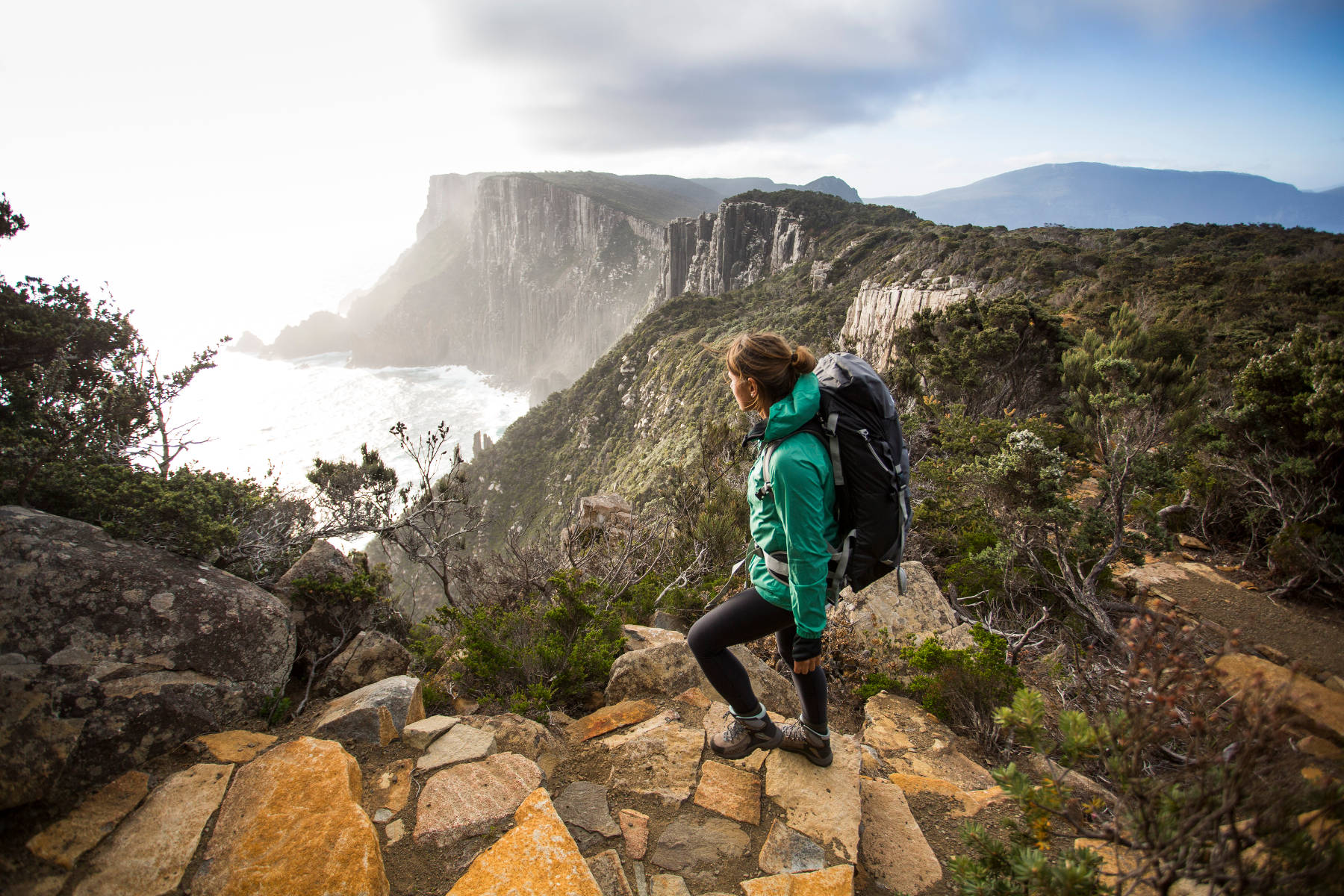 It's time to explore Australia's far south-east. You, 48-kilometres of cliff-hugging wilderness and the added luxuries to make your experience truly unforgettable.
Tasmania's Three Capes Trek is remote, raw and far from the hustle and bustle of our fast-paced lifestyles. This transformative trek takes you on a four-day journey through the world heritage-listed sites and destinations that will ultimately take your breath away. The Three Capes Lodge Walk features tremendous variety. Artistic illustrations and benches are peppered across the trail to guide you on a journey and to share unique stories of Tasmania's historical Overland Track.
Walking along the trails mosaic stone steps, you will be surrounded by dramatic Tasmanian landscapes. Feeling like you're walking along the edge of the world, you will sometimes find yourself trekking 300-metres above the unruly and howling winds of the Southern Ocean. Standing on nature's edge you will feel refreshed, and trekking through the bushland you will be in awe of the silence. Revel in the contrasting colours of the wild ocean, windy heathlands and dry woodlands. Trails will direct you to the sparkling bays, as sea cliffs plunge beneath your feet. Perhaps you sight some migratory whales, dolphins dancing in the waves or fur seals resting ashore. Challenging pillars invite you to scale to reach secluded outlooks, and both the privacy and vastness will give you the ultimate exhilaration of what freedom truly feels like.
Architecturally designed civilisation nestles within the wilderness placed for comfort and positioned to capture nature's raw beauty. Fragrant eucalypt forests lead you to your next environmentally-sensitive cabin. After trekking between 10-20 kilometres per day, unwinding each afternoon becomes easy as you indulge in Tasmania's finest produce. This is where you'll pour a glass of wine and put your feet up!
Walking the momentous Three Capes Lodge trail won't just allow you to tick off another bucket-list destination, you'll be trekking with a purpose and supporting a great cause. Taking on the challenge will promote the important work Act for Kids does and help to continue providing the best possible support for children and families suffering from abuse and neglect.
So, we invite you to take a long weekend! Relax, unwind, discover Tasmania, and take pride in knowing that you will be changing the lives and little hearts of children who need our help.